Central Indiana Mensa typically has two major events every year: our Regional Gathering in late January and our Outdoor Gathering in May.
Regional Gathering: WTF – Winter Time Fun!
January 24 – 26, 2020 Indianapolis
We're still working on the details for the 2020 RG. In the meantime, you can check out the 2019 RG:
January 25 – 27, 2019 Indianapolis
An indoor excursion to the Waterfront hotel on the west side of Indianapolis. Our RG draws people from groups all around the Midwest. With visitors from Chicago, Cincinnati, Kentucky, and Michigan, this event always has a weekend full of events designed to cater to the intelligent crowd. Events from the last few years include how to make and use a 'bug-out' bag, comedy shows and improv, chocolate, hard cider, and wine tasting, science lectures, discussions on copyright, and much more.
Bring a buddy! Free Mensa test (Saturday morning) for non-members included with a full weekend registration. Please let us know if you have a guest who will be taking the test.
Programs
Click here to see the full program. Here's the Program at a Glance: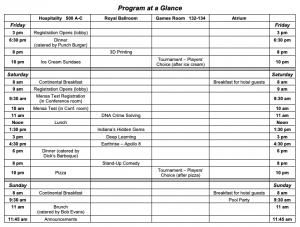 Hotel
Waterfront Hotel & Conference Center (same hotel, new name)
2930 Waterfront Parkway, West
Indianapolis, IN 46214
(317) 299-8400
www.waterfronthotelindianapolis.com
Ask for the $79 Mensa rate
Free parking
Fully handicapped accessible
Central Hospitality area
Registration (includes all meals)
Adults:
$75 until Dec 31, 2018
$85 Jan 1-24, 2019
$90 at the door
Kids:
$35 – under 6 years old
$50 – 6 – 12 years old
One Day Rates:
$30 Friday Only
$60 Saturday Only All Day
$40 Saturday Only After 5
$10 Sunday Only
Register online at cim-rg-2019.eventbrite.com. Here's the flyer but it's too late for snail mail.
Registration questions? Please email the Registrar here.
Other questions? Please email Gatherings Chair Teresa Gregory.
OMG! Outdoor Mensa Gathering
May 29 – 31, 2020 Versailles State Park, Southeast Indiana
An outdoor excursion to a group of cabins in the woods. Reasonably described as "camping-lite," the Outdoor Mensa Gathering (or OMG!) is a trip to the great outdoors of Indiana, with a campfire, hiking, board games, card games, guided discussions, and other activities.
Join Central Indiana Mensa for a laid-back weekend in the woods. If you're thinking that you aren't the "out-doorsy" type, think again! You get food, lodging, scenery, and more for only $65 per person! Saturday only is $45. Kids up to age 6 are $25, and ages 6-12 are $40. There is also a per-car park entry fee. So grab your sleeping bags and towels, and join us at Versailles State Park in the group camp.
Questions? Please email Gatherings Chair Teresa Gregory.
US Mensa's Annual Gathering
US Mensa's AG (annual national convention) was held in Indianapolis for the first time from July 4-8, 2018. Our group hosted the event; Teresa Gregory and Jan Pfeil Doyle were co-chairs. Indianapolis native astronaut Dr. David A. Wolf was the speaker at the gala banquet. Over 1700 people attended the event that was held at the JW Marriott in downtown Indianapolis. Click here for information about the 2019 AG; details for the 2020 AG in Kansas City should be available soon.